Magazine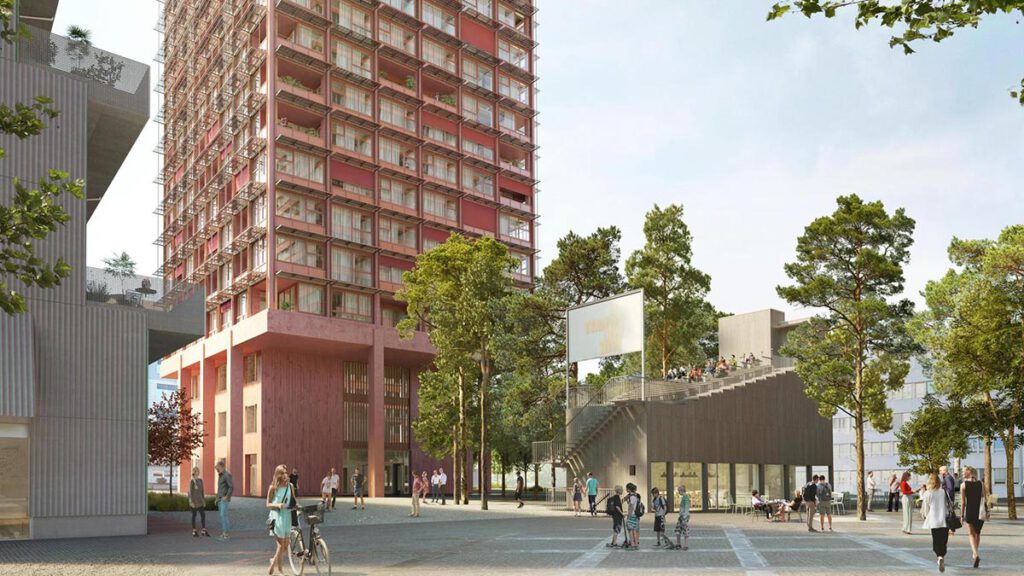 Climate neutral and affordable
The new urban quarter Zwhatt near Zurich is designed to enable climate-neutral living at affordable prices. One of its buildings is a 75-metre-high timber hybrid tower known as Redwood, whose facade generates solar power.
Years of planning and amendments went into developing the new urban quarter at the Regensdorf-Watt railway station close to Zurich. In a design process known as a charrette, over 100 experts from various disciplines discussed how best to breathe new life into the industrial area on the outskirts of the Swiss metropolis. The result is an urban development design with several different buildings, including two high-rises.
Affordable living as an investment project
The concept is ambitious. Zwhatt's design aims to develop a quarter that allows the greatest possible variety of living and working. It is also planned as an urban prototype that lives up to the ecological demands of our times. With around 600 apartments available for rent, the complex will offer its future residents a choice between micro-living – just one main space plus a smaller room, two-storey lofts, or apartments for larger families. But the main aim is to create affordable living space.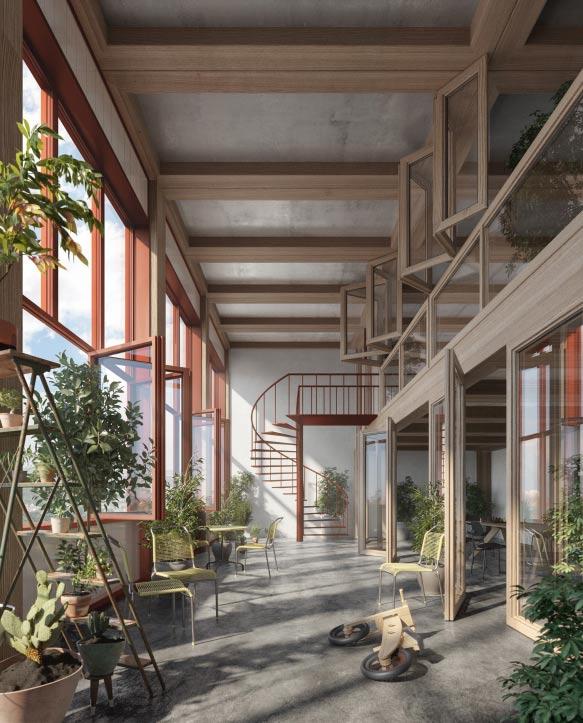 What sounds like a plan by a non-profit housing cooperative is actually an investment project realized by Pensimo Management AG. The company has recognized that "there is a rising demand for inexpensive living space with appropriate facilities, which is also a segment increasingly targeted by investors." Established in 2010, its Adimora Investment Foundation enables institutional investors to buy a stake in socially compatible development projects such as the urban quarter Zwhatt.
Redwood as a timber hybrid high-rise
As the project illustrates, an efficient and cost-optimized design is not necessarily inconsistent with ecological sustainability. One of the planned high-rise projects is the 75-metre-high timber hybrid tower Redwood designed by Boltshauser Architekten. Concrete is being used for the service core, the basement storeys and the ceilings. The loadbearing pillars, the girders and also the facade elements will be made of wood.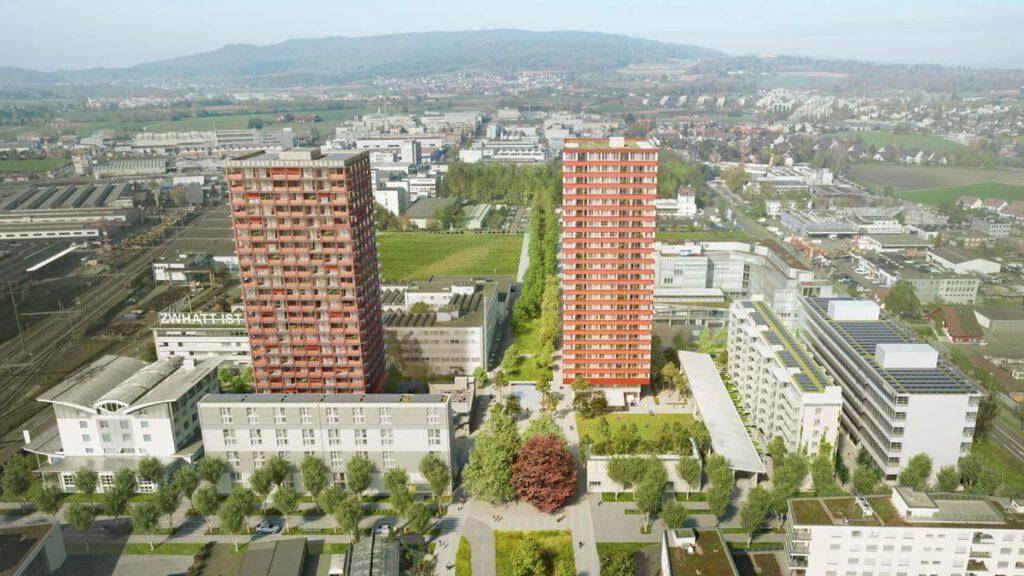 "Compared to a solid structure, around 20% or 670 tons of CO2 can be saved in the life cycle of 60 years," the architects' calculation reads. And wood is also a renewable raw material that raises indoor air quality, increases the feeling of comfort and shortens construction time.
Solar panels on the facade
With its 156 apartments, this timber high-rise will not overshadow Lausanne's Tilia Tower in terms of its height. But Redwood's power consumption is an entirely different matter. The tower will actually produce around 50 percent of its own energy requirements. Describing its carbon-friendly energy concept, the architects explain: "A photovoltaic system with colour-coated solar modules is integrated into the parapet cladding on the facade. Together with the large-scale photovoltaic system on the roof it generates an energy yield of up to 130,000 kWh/a."
A photovoltaic system is integrated into the parapet cladding on the facade.

Boltshauser Architekten
Besides housing, the timber tower will also offer office space on the first two upper floors: a coworking space that can be used by smaller firms and self-employed entrepreneurs. A bistro on the ground floor plus a split-level communal area on the 13th and 14th floors will foster a sense of community between the people who live and work in the building.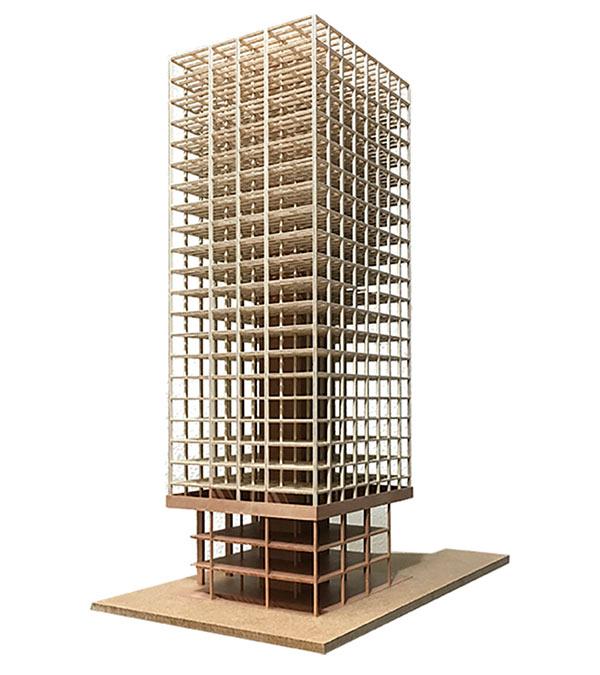 An event location, open-air cinema, skate park, sauna and café will breathe life into the new urban development area. And the new quarter's website also emphasizes that around 7,000 square metres will be devoted to commercial activities. The flexibility of this space will make it suitable both for start-ups and for leading players on the world market.
As the new residential quarter is located in the middle of an industrial and commercial park, there are no public childcare facilities. And so developer Pensimo is even building a kindergarten on behalf of the local authorities to fill the gap.
Text: Gertraud Gerst
Translation: Rosemary Bridger-Lippe
Visualizations: YOS Visualisierungen, Nightnurse
Other articles
that might interest you