Magazine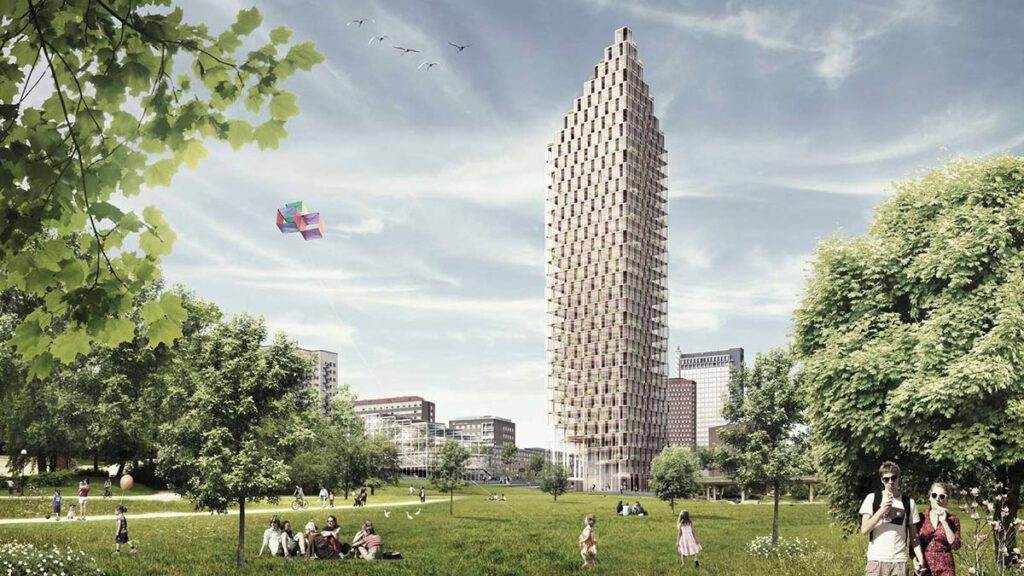 Village life in the city
Communal vegetable patches, car sharing and a timber building that overtops many others. Sweden's largest housing cooperative is celebrating its 100th anniversary with a project called Västerbroplan that shows how people will live in the future.
Västerbroplan is a traffic intersection in Kungsholmen, Stockholm. Or at least that's what comes up when you enter the word in a search engine. But this is set to change very soon, at the latest in 2023. Next year, the eponymous plyscraper will become the new landmark in "King's Island", as the district's name Kungsholmen translates. The opening of this socially and ecologically sustainable residential tower will celebrate the 100th anniversary of Sweden's largest housing cooperative HSB in style.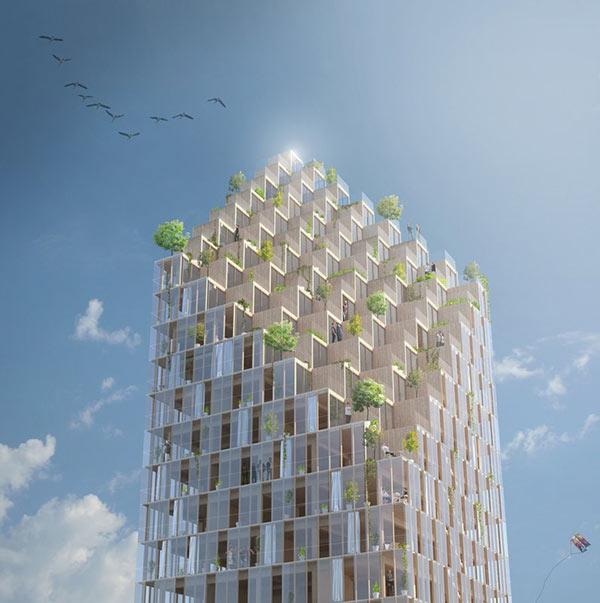 Almost a decade ago now, the architecture competition was held to find a suitable project. When it came to choosing the most innovative concept, property developer HSB decided to involve the general public. Via the company's Facebook page, users were asked to vote how they would most like to live in the future. And in 2013 the design by architectural offices C.F. Møller and Dinell Johansson was chosen. The superlative "tallest plyscraper in the world" that was used to describe the 34-storey high-rise may have been correct at the time. But several other projects, like The Dutch Mountains in Eindhoven, now have the edge on it, at least height-wise.
Wood as fire protection
The construction method used for Västerbroplan is on the cutting edge of building development. Apart from concrete cores to provide the necessary stability, the tower will be built entirely of wood. Pillars and beams made of solid wood, with CLT walls, floors and ceilings. The architects at C.F. Møller are convinced that "wood is the natural choice when it comes to materials for innovative residential development".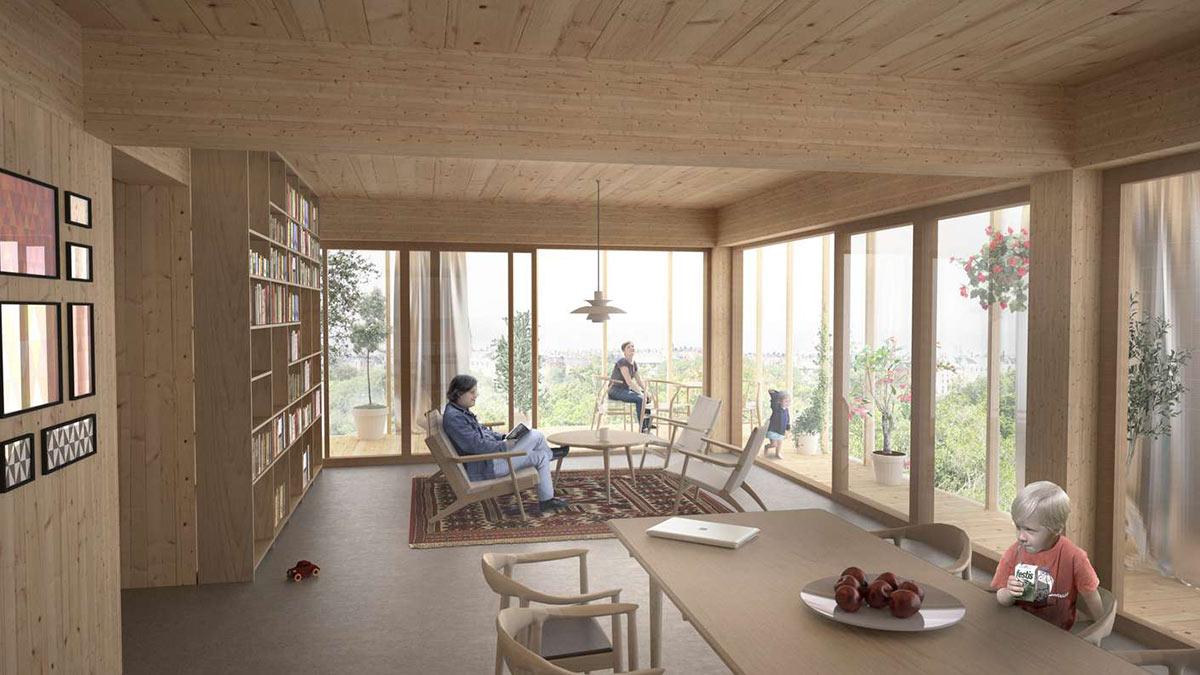 As a renewable building material, wood is unrivalled not just as regards climate change, but also because of its many other benefits. "You might be surprised to learn that the wooden structure also constitutes a very efficient form of protection against fire," the project description reads.
Wood is the natural choice when it comes to materials for innovative residential development.

C.F. Møller
In fact, experts agree that timbers have comparatively high resistance to fire. Wood burns slowly and is a poor heat conductor. Besides this, the carbonization on the surface of the wood creates a protective layer. This effect is used in the Japanese wood sealing technique shou sugi ban.
Penthouse feeling and climate buffer
The project's unique feature must surely be its facade with exposed timber construction. Furthermore, the double glass shell around the building protects the wood from the weather. And it also forms a continuous winter garden that surrounds the entire tower.
This gives each apartment its own energy-efficient thermal climate buffer and extra living space as well. As a glazed loggia, it gives the residents a kind of penthouse feeling independent of each individual location.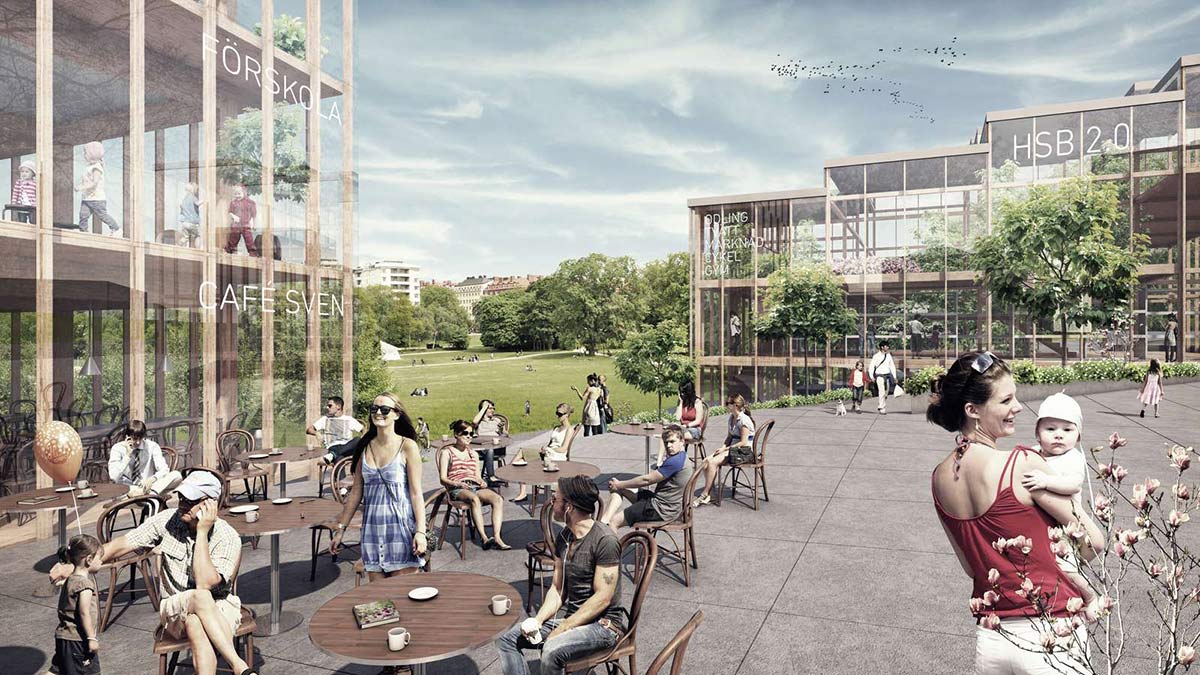 Ecological, social, sustainable
A central element of the design is its ecological and social sustainability. Future residents can grow their own cucumbers and radishes in the community centre, or buy vegetables in Västerbroplan's supermarket. The produce will be grown especially in an adjacent greenhouse to avoid long transport routes. Residents can also use bike sharing, have their own bicycle repaired, visit the laundry, or get a good workout in the fitness centre.
Greened roof terraces on the high-rise are not only available for on-site leisure, they also produce solar power and collect rainwater, which is then treated and supplied in drinking water quality. The nursery is just an elevator ride away, and car sharing for a family trip is booked via an app.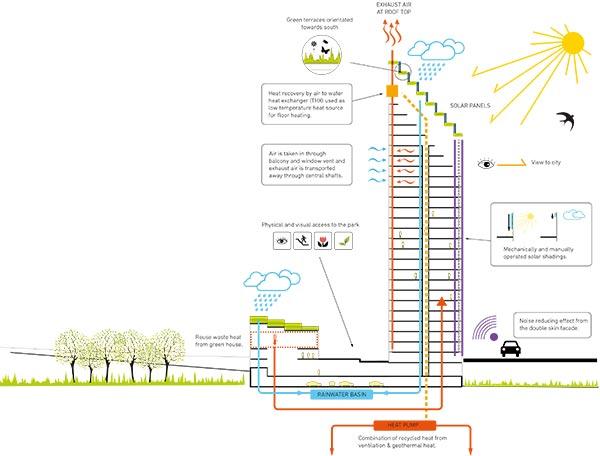 Stand-alone village community
Västerbroplan intends to counteract the deterioration of local amenities and the decline in city centres over recent decades. It also aims to create a lively village community in an urban setting that is self-sufficient and takes responsibility for its own local provisions.
Residents in the entire quarter will benefit from its greenery and infrastructure. The small ecological footprint of the tower and its residents could be the ticket to a future in which climate change becomes more than just a theory.
Text: Gertraud Gerst
Translation: Rosemary Bridger-Lippe
Renderings: C.F. Møller Architects
Other articles
that might interest you