Magazine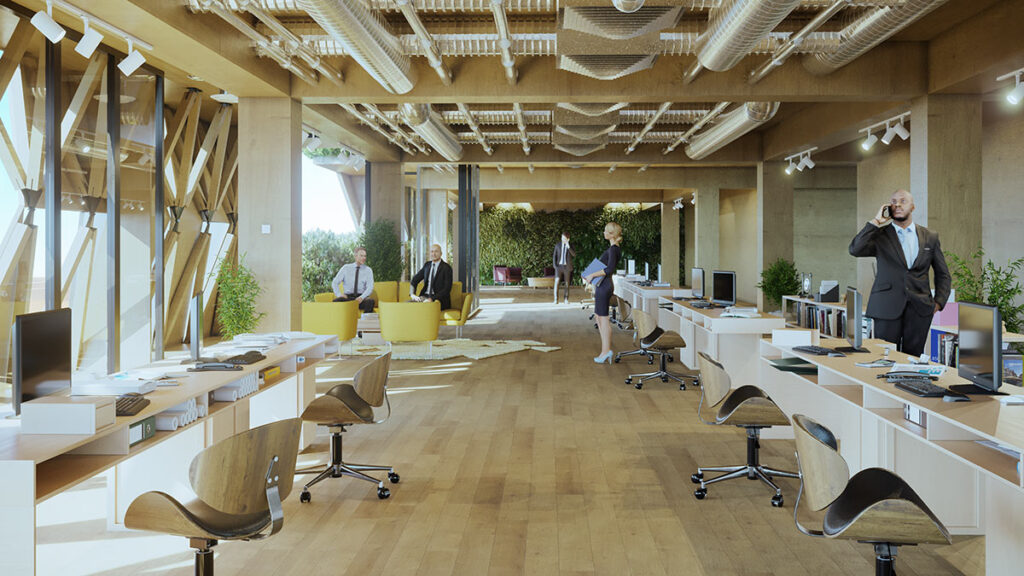 The parametric office
The design for the urban office building Saint Denis in Paris shows the potential of parametric design in timber construction. Architect Arthur Mamou-Mani is a luminary in this new discipline, and we were able to meet him online.
Right away, even on Zoom, one thing is clear: algorithm-based design is a world where Arthur Mamou-Mani excels. Sitting behind his desk, he is surrounded by helical models. And from time to time he reaches out for one in order to illustrate what he is saying. One project close to his heart is his design for an office building in the Paris suburb of Saint Denis. Although there isn't a model for this one, numerous sketches and illustrations are available.
His father grew up nearby, in one of Banlieue's high-rise blocks. The architecture is dreary, he says, and the people living inside cannot really flourish. "I wanted my design to counteract this symbolically, with something that is humane and organic." A kind of urban forest glade, an oasis in the middle of the city.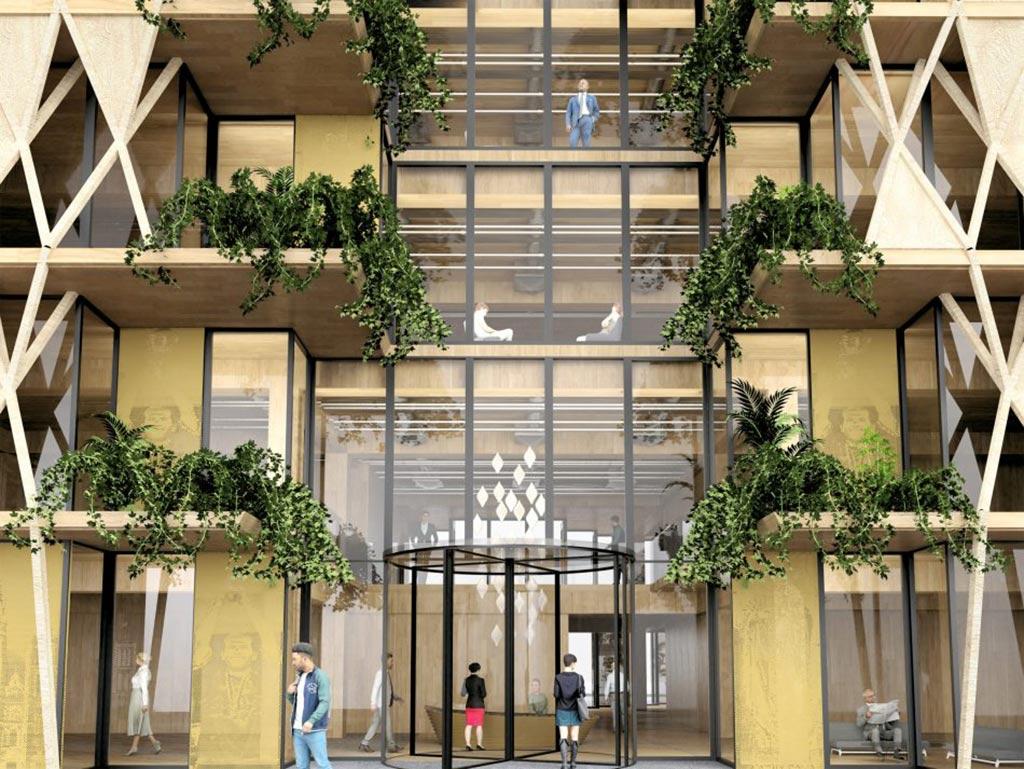 Organic shape designed by computers
Born in Paris, he now runs the multiple award-winning office Mamou-Mani in London, specializing in parametric architecture and digital designs. The exact process in parametric design can be understood from the following comparison: traditional designing means the architect draws a line from A to B. In contrast, parametric designing involves the determination of specific parameters and rules (algorithms), and the line is generated by the computer on the basis of this information.
It is a bit like composing a piece of music.

Arthur Mamou-Mani, architect
This frequently produces highly organic forms, like those occurring in nature. To illustrate this kind of "parametric movement", as he calls it, Mamou-Mani holds up a model of the Galaxia Temple and grins: "It is simple and yet complicated at the same time." The structure is based on simple wooden slats from a DIY store. "We used the computer to calculate the forces at work in the structure." This supplied the length and thickness of the slats, the size of the individual triangles and the type of connecting parts.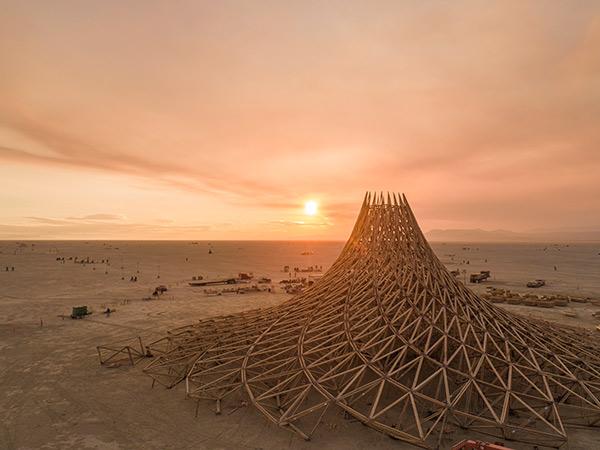 Voxel: a pixel with volume
Seeing the temple at the Burning Man festival in the Nevada desert, a French developer immediately liked their concept. He asked Mamou-Mani and his team to take part in a competition for an office building in Saint Denis, and apply their parametric approach to creating space within a different context. Working together with civil engineers, environmental engineers and timber construction experts, they designed a building concept based on the unit "voxel". "It is a pixel with volume, hence the name," he explains.
This basic unit was calculated using the fixed variables of floor area and permissible height limit, and also the fit-out grid of 1.35 metres. Mamou-Mani uses a video to show the innumerable volume variants resulting from this matrix. "One of our proposals showed a public plaza that winds through the middle of the building. It is a bit like composing a piece of music."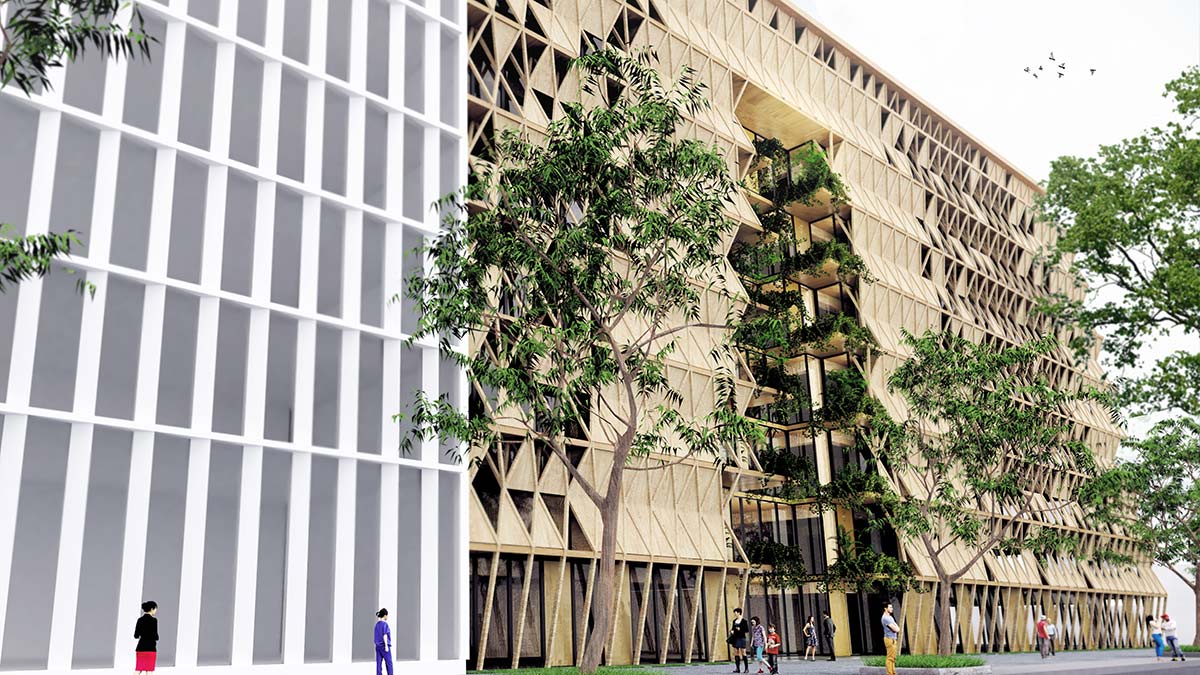 Lightweight construction made of solid timber
In a process comparable with Building Information Modeling (BIM), all relevant data was fed into a single system. The resulting digital model was used to calculate the smallest possible use of material with the greatest possible stability. This produced a lightweight construction made of solid timber, entirely without a concrete load-bearing core. In addition to reducing costs, this optimized use of materials also saves valuable resources. "The architecture of the future uses the intelligence of computers," remarks the digital craft expert.
The healthy working environment created by wood and its CO₂ neutrality leave him in no doubt: "Wood is unquestionably the construction material of the future."
A modular facade makes the individual voxels easily recognizable. Fitted on the outside, the external wooden structure also serves as sun shading for the glass facade. Some of these timber sections are insulated and in certain places they also double up as the casing for the outer facade. "These insulated origami walls create a selection of more private meeting spaces and play with the rhythm of the building," the description reads.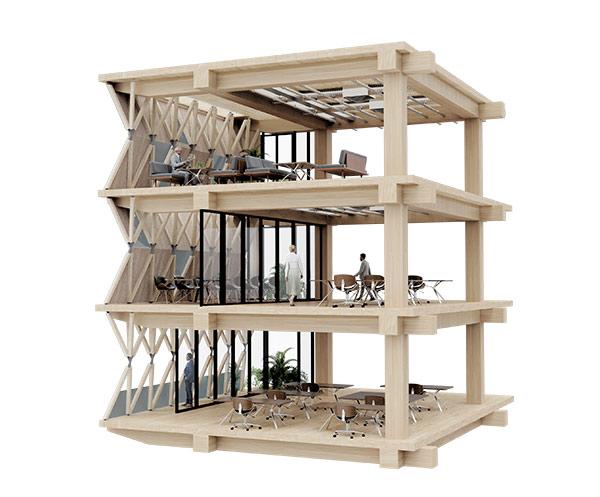 Organism in a state of functional flux
This principle of "growing volume" consisting of pre-defined units follows on from the tradition of the Japanese metabolists, Mamou-Mani believes. Sharing his screen, he googles his way through the buildings that originated as part of this movement, and he clicks on Kisho Kurokawa's Capsule Tower. It is a building like a living organism that can shed individual cells and add new ones in a constant state of functional flux. "The Covid-19 crisis has shown that we need new spatial concepts that are flexible and convertible," explains the architect.
These insulated origami walls create a selection of more private meeting spaces and play with the rhythm of the building.

Arthur Mamou-Mani, architect
He aims to maximize this flexibility in the parametric concept for Saint Denis. Using timber and glass as room dividers throughout the building creates flexible workspaces that can be reconfigured at any time.

Design yet to be implemented
Like so many other elaborate competition submissions, the design for Saint Denis will be shelved for the moment.
"The developer decided not to follow through," Mamou-Mani says regretfully. As there are still a few uncertainties associated with innovative timber construction, many people prefer to remain with tried-and-tested reinforced concrete. "So all that work was for nothing?" No, it wasn't – the architect is convinced about that. "The structure for the Galaxia Temple was originally designed as a hotel. And so Saint Denis will eventually find its own destination as well."
Text: Gertraud Gerst
Translation: Rosemary Bridger-Lippe
Photos and visuals: Mamou-Mani Ltd.
Other articles
that might interest you