Magazine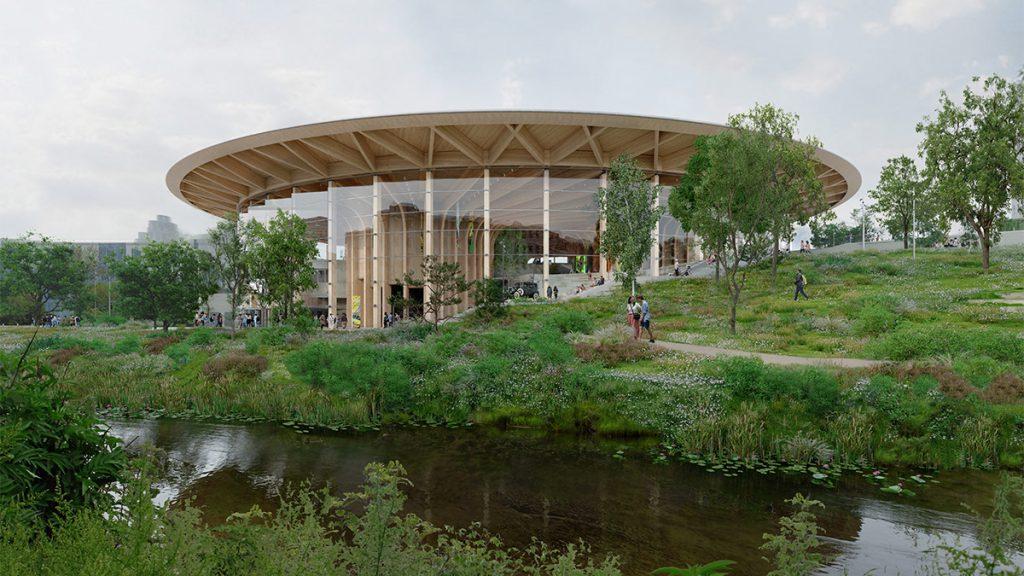 Timber showcase for Volvo
A special kind of discovery world is taking shape in Gothenburg, where Swedish vehicle manufacturer Volvo is using timber construction and nature to create its World of Volvo. The components and engineering for Henning Larsen's design are being provided by Austrian firm Wiehag.
Sweden is renowned for its natural beauty, and nature ranks highly among the country's priorities. The right of public access ("allemansrätten") is an important part of its culture. Based on ancient common law, all citizens are free to walk on land provided that nothing is "disturbed or destroyed". This basic right to nature is upheld by all sides – from private individuals to companies. This is the spirit in which legendary Swedish automotive giant Volvo is creating its new World of Volvo in Gothenburg, a concept that is firmly rooted in timber construction, environment and tradition.
Timber construction and engineering from Upper Austria
The sustainable project was designed by leading Danish architectural firm Henning Larsen, which submitted the winning competition entry. Construction work on the 22,000 m² discovery world is already in full swing. And much of it is taking place in Austria. This is because the gigantic mass timber girders and columns are prefabricated by Upper Austrian timber construction specialist Wiehag.
Its factory in Altheim is one of the largest production facilities of their kind anywhere in the world. The giant, curved components made of glulam timber are produced here for the new Volvo discovery world and then delivered to Gothenburg by special transport. As Wiehag CEO Erich Wiesner explains: "We are also responsible for the associated engineering, which is why we were involved in the planning of this extraordinary building from the very beginning".
Attraction for Gothenburg
The architects' design aims to showcase the history, basic values and future visions of Volvo Cars and the Volvo Group. And also to create a new, inviting meeting point in the heart of Gothenburg that pulls out all the stops. It will offer exhibitions, special events, restaurants, entertainment, shopping and more, in a green environment that celebrates and reveres Scandinavia's natural beauty.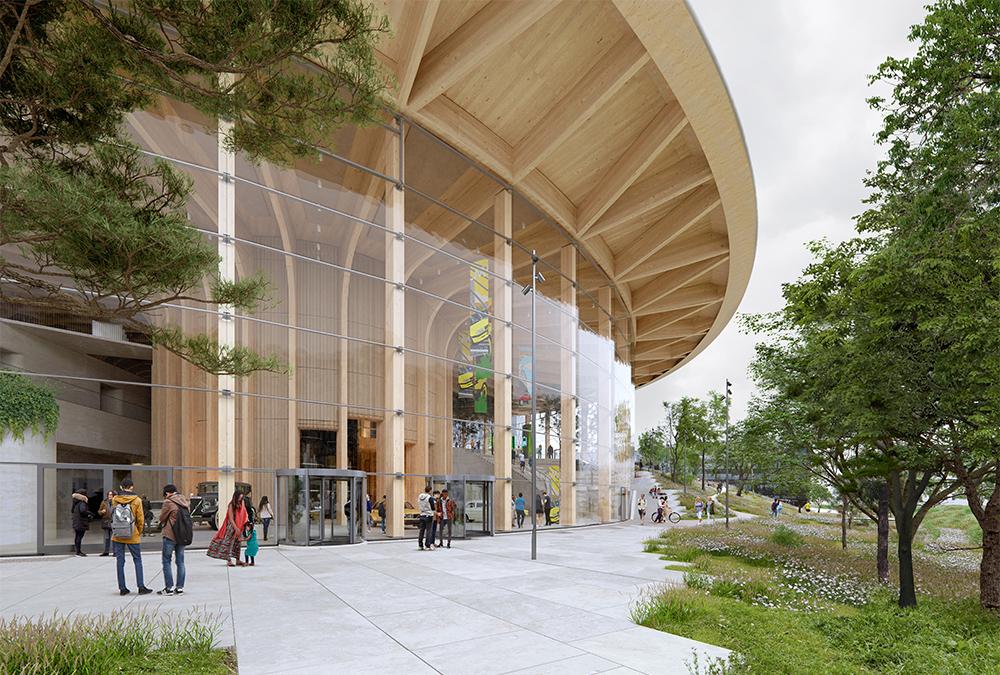 World of Volvo is being built in Gothenburg's event district, where many museums, parks and entertainment venues are found. It is expected to be completed at the end of 2023 and open to visitors in 2024. The project's round shape invites visitors to enjoy the discovery world in whatever way they choose. Both inside and outside. And regardless of whether or not they buy tickets for the exhibitions.
Our aim was to create something that was very important for Sweden's culture and attitude to life.

Martin Stenberg Ringnér, Associate Design Director at Henning Larsen
Tradition in visionary form
The timber construction of World of Volvo is the most forward-looking yet traditional element of the project. While Sweden – like many Nordic countries – has a long tradition in timber construction, the architects and timber construction engineers take a very modern approach here. The columns and girders are made of glulam timber, a timber product that consists of multiple layers of dimensional wood bonded together with a durable, moisture-resistant structural adhesive.
Typically Swedish – round and open
As Martin Stenberg Ringnér, Associate Design Director at Henning Larsen, puts it: "World of Volvo's circular shape, wood materiality, its integration with the landscape and basically its openness – these things are all part of a central collective identity."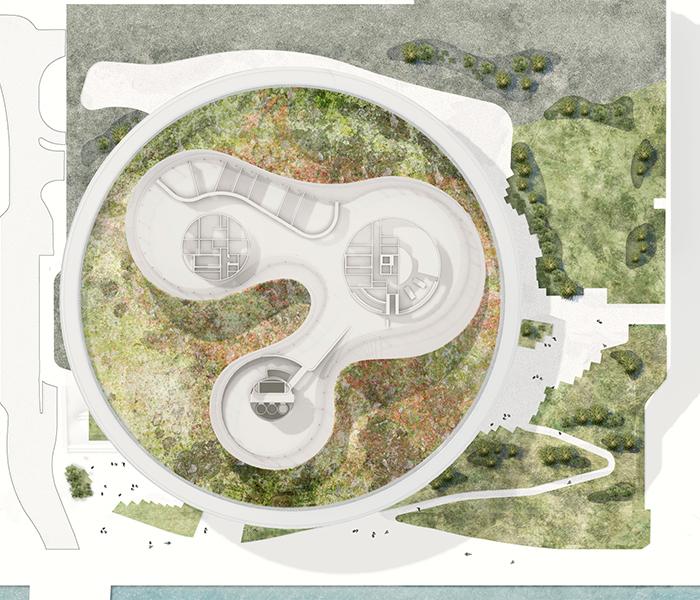 The curved glulam timber parts can be cut precisely using computer-controlled production. Metal connectors concealed within the wood provide the structure with added stability and lasting durability. The building's floor slabs are made from local cross-laminated timber.
Celebrating timber
Filip Francati, Lead Design Architect at Henning Larsen, says: "Architecture is currently in the midst of a timber renaissance, with new milestones in timber construction being reached at breakneck pace. But despite strides in structural development, aesthetic expression hasn't kept pace. World of Volvo has been an exciting opportunity to push the boundaries. We hope that it can set a new standard for the many ways we can use timber in architecture."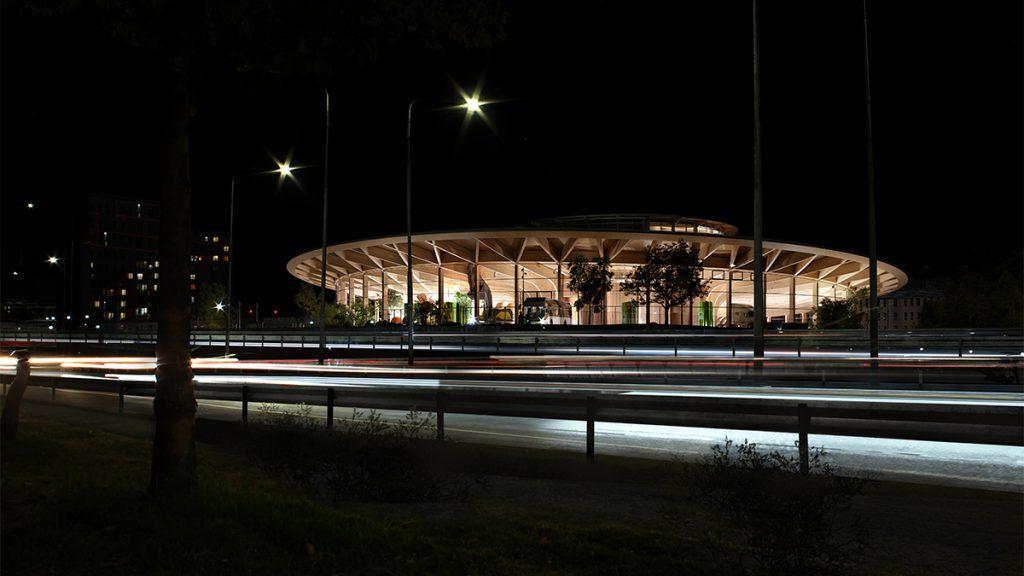 In the daytime, the bright and friendly-looking building that Henning Larsen designed for the new discovery world looks as if it had "grown" there. Its curved "branches" and canopy are modelled on the surrounding nature: a deliberate optical effect that works a treat. To achieve this, the architect team visualized a mountain and a tree during the design phase. It was this inspiration that ultimately shaped the grounds, the building base and the timber construction.
Our approach brings a native piece of Swedish nature to the middle of Gothenburg.

Sonja Stockmarr, Global Design Director for Landscape at Henning Larsen.
More green for the city
The vast green spaces surrounding the new World of Volvo building bring Sweden's nature to the centre of Gothenburg. They will cover the area with flowers and native plants that thrive amongst the rocks and winding trails. As in the rest of the country, visitors are welcome to use and enjoy the landscape as they choose. But, needless to say, they must behave in accordance with "allemansrätten" – without leaving any traces behind. To ensure the project itself benefits both the people and their environment, the aim is to obtain LEED Gold and WELL certification.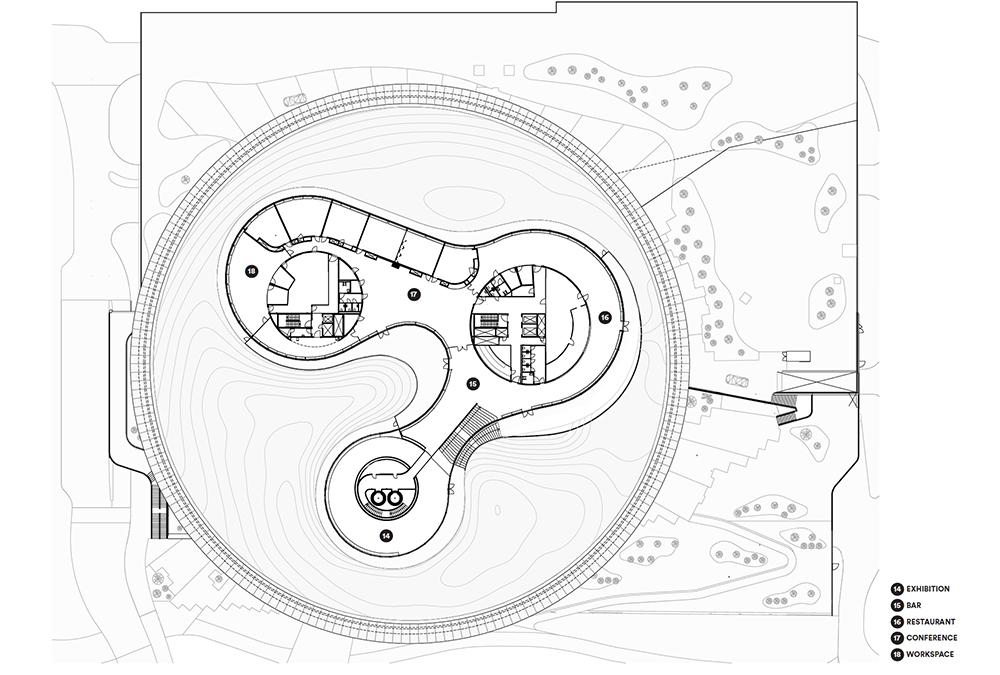 Henning Larsen landscape designer Sonja Stockmarr explains what this green plan involves: "The landscape from the Swedish quarries and the wooden structures built with pine trees, moss and shrubs from Swedish forests make up the nature surrounding World of Volvo." The aforementioned "mountain" has three giant "trees" growing out of it, with "trunks" that are big enough to house small gallery rooms, vertical circulation, brand exhibition and service functions.
Room to marvel
The open space between these trees is largely empty. The only feature is an eye-catching sculptural stairway that combines the levels and exhibits. And with floor-to-ceiling glass facades, the building interior looks as though it would fit seamlessly into the surrounding nature.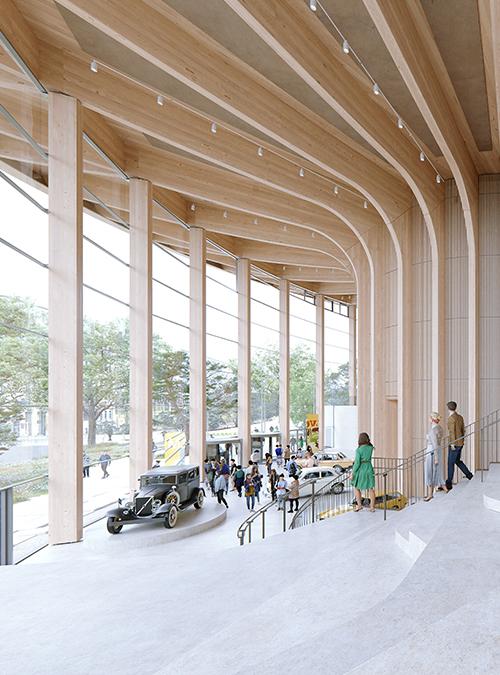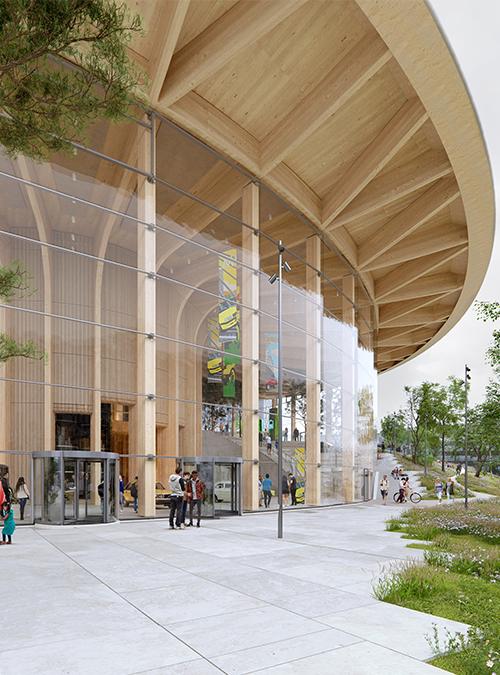 The World of Volvo grounds are situated on the banks of the Mölndalsån, connected with a promenade that leads to Gothenburg city centre on its east bank. There are a number of green routes across the river, offering easy access to walkers and cyclists. On the other side of the discovery world is the E6 motorway. Here, too, you can catch a glimpse inside the building as you drive by.
World of Volvo makes its mark
Visitors to Volvo's marvellous new attraction can decide for themselves how much they want to see and explore. However, the client's wishes are very clear. World of Volvo CEO Magnus Wrahme explains: "We commit to creating a landmark, a new icon and destination in the city centre of Gothenburg. We also commit to gathering people in an inspiring meeting place reflecting Volvo's human-centric approach and perspectives."
Henning Larsen has won many awards and has vast experience in future-oriented timber projects. His team's expertise can be seen in sensational concepts like the urban timber village Fælledby in Copenhagen. And the importance of sustainability to the innovative Danes is evident from the design (also a round shape!) of the new Convention Center in Pujiang, China.
From car manufacturing to climate protection
While Volvo's vibrant, sustainable discovery world is taking shape according to Henning Larsen's plans, another carmaker is going even further. In Japan, Toyota is working with another Danish office, BIG, on an entire town that will cover 71 hectares and will be emission-free and energy self-sufficient. A not uncontroversial project which, incidentally, has already begun. The World of Volvo is likely to be completed long before this, though. And regardless of the scale or vision, the mere fact that carmakers are now engaging more and more in proactive environmental protection is very good news indeed.
Text: Elisabeth Schneyder
Images: Henning Larsen, KVANT
Other articles
that might interest you