Magazine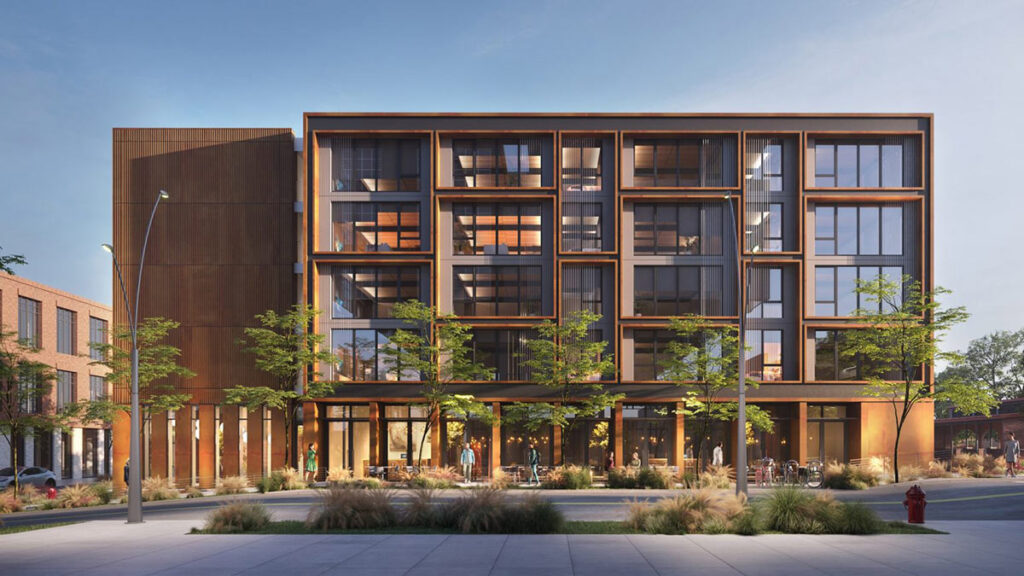 Urban apartments off the peg
Apple's former design head BJ Siegel has developed a concept for a timber modular house. The urban prefab named Juno is designed for mass production – and hopes for success on the scale of the iPhone.
The prefab concept emerged in Europe and North America at roughly the same time, in the second half of the 19th century. Two of the oldest prefabs in the world are Villa Undine on Rügen and Villa Blumenthal in Bad Ischl. These decorative wooden houses built for Wolgaster Actiengesellschaft served as a springboard for industrialized house building. Ever since then, a large market has developed, with numerous suppliers offering private residential buildings off the peg. Apple's former store designer BJ Siegel is now joining them on a grander scale, with the modular apartment building "Juno".
In German-speaking regions, at present 20-30% of single- and dual-family houses are prefabs. As a contrast, more than 90% of private homes in the USA are built as timber frame constructions. However, Siegel's target group is not so much home builders. Rather, he is intending to supply the development industry with a product that is suitable for the masses. According to the product website, "Juno is building an end-to-end platform to connect and streamline the entire real estate development process".
Following in the footsteps of the iPhone
Above all, the architect wants to provide a design that doesn't look like a prefab. The modular concept aims to overcome the existing discrepancy between bespoke dream homes and pre-assembled houses. This is because prefabs are still associated with a cheap and identical product.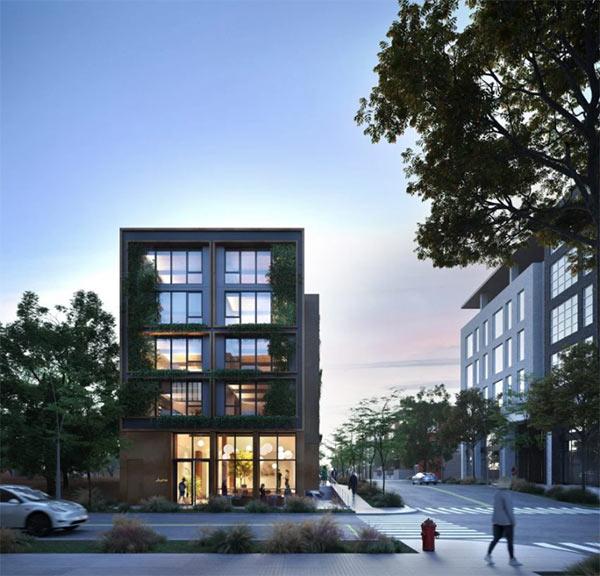 For us, the idea was to deliver a higher-quality product at a more accessible price point for folks.

BJ Siegel, architect and founder of Juno
Siegel is convinced that a cleverly designed prefabricated house can be productized in the same way as a smartphone. The designer explained to Dezeen magazine: "For us, the idea was to deliver a higher-quality product at a more accessible price point for folks."
He is convinced that if the quality is right, then nobody is bothered that their house is not unique. "Taking it from product design, no one cares that your iPhone is the same as the next person's," continued Siegel. Repetition is something that is frowned upon in architecture. "So we have to design something that is meant to be repeated and that is accepted as higher quality."
Flat-packed with tools and instructions
Together with co-founder Jonathan Scherr and New York architectural office Ennead Architects, Siegel has developed a modular system with 33 components. These basic elements can be assembled in various ways to produce different housing blocks. Instead of being built at a single location, the production of the individual elements uses a supply chain with a number of production sites across the US.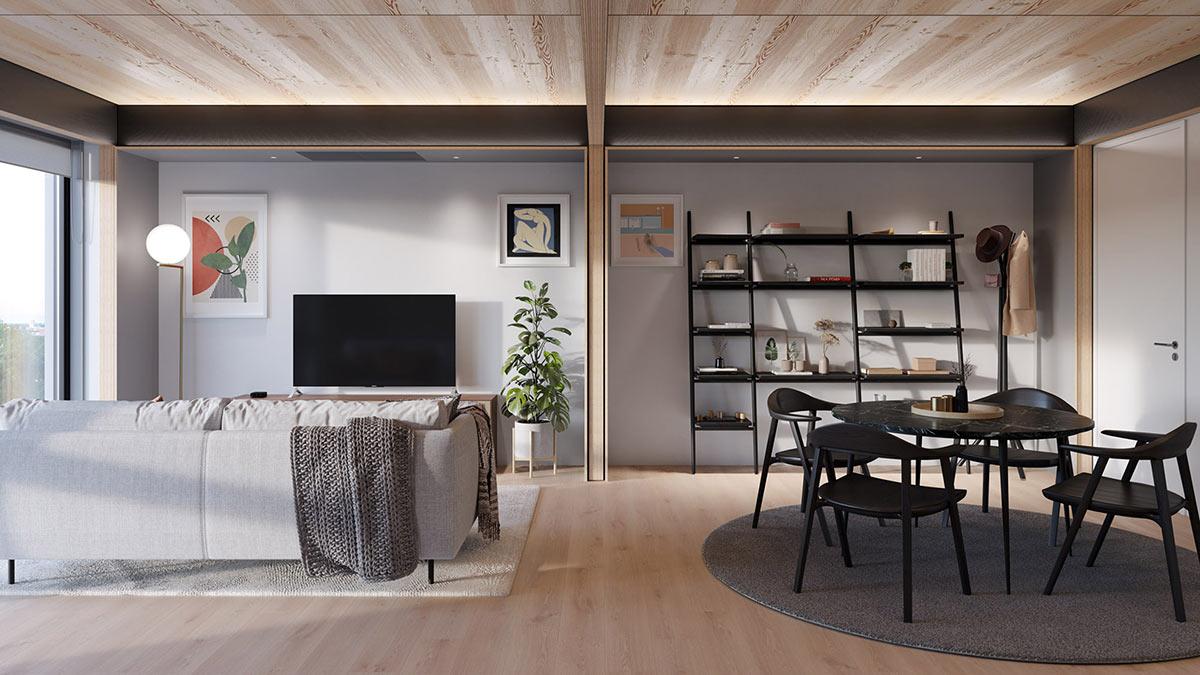 Juno is ultimately delivered as a flat-pack together with the relevant instructions and necessary tools. Once on-site, the building can then be assembled by the professionals. In the initial phase, they prepare the foundations as required by the construction site. And when the concrete slab is in place, the house can be built as instructed – made entirely of mass timber.
Mystery of the chosen timber
The exact kind of timber material chosen for the house is being kept secret for now. Although the designer has specified that the modular house will not be using CLT, cross-laminated timber. "We are actually using another variety that we think is slightly better than cross-laminated timber for a number of reasons," Siegel said cryptically.
This variety is not as easily accessible as CLT and comes with the advantage that they are "actually using a lot less material". But the mystery of the timber material will not be solved any time soon, explained Siegel, because the know-how gives them a competitive advantage.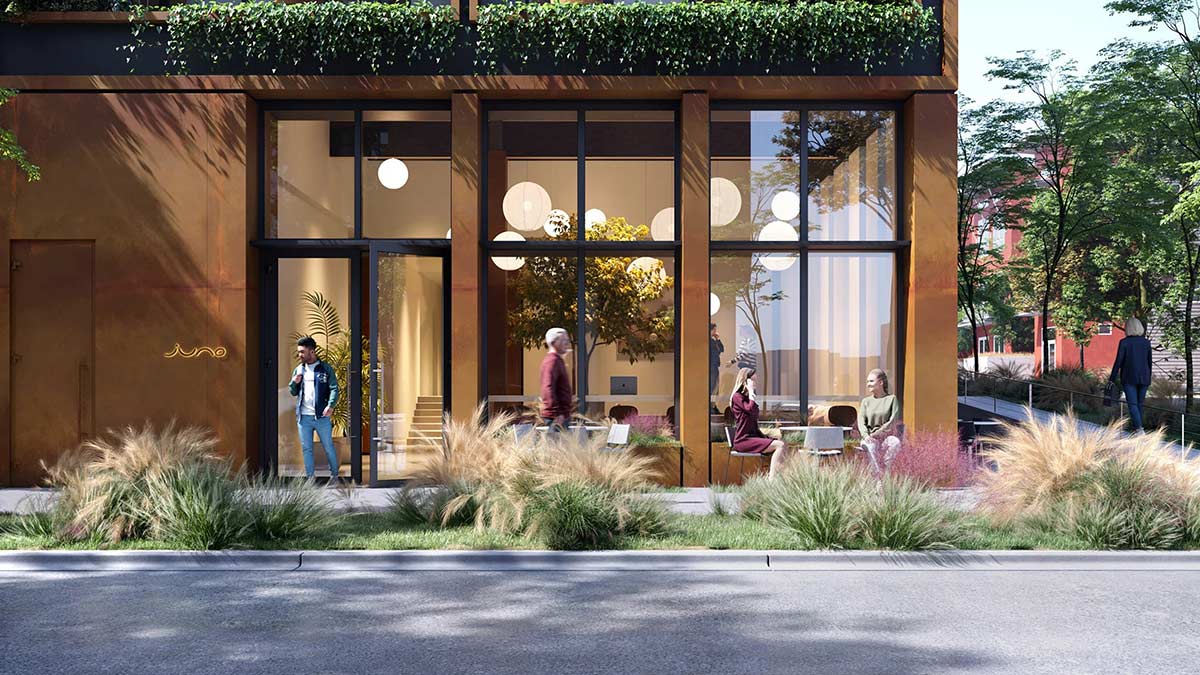 The benefits of mass plywood panels
Industry insiders suspect that the preferred material will be mass plywood panels (MPP). Manufacturer Freres in Oregon, US, offers these panels as an alternative that will "outperform" the stability of CLT, for example. Unlike the "Baubuche" – literally translated as "construction beech" – produced by German MPP firm Pollmeier, the US product is made from Douglas fir.
Because of this decentralised supply chain, if we chose to be global, we could do that.

BJ Siegel, architect and founder of Juno
According to an initial study by Oregon State University, MPP is technically superior to CLT. It has a similar strength, but material requirements are 20-30 percent lower. And elements can be delivered with spaces for windows and other openings already integrated, thus reducing waste during production. While preserving resources, this preassembly is designed to bring ecological and economic benefits as well.
Start of construction for Juno in Austin
Siegel intends to launch Juno at "market rate", but he believes that the "cost will continue to go down" due to savings from mass production. Construction of his first project began recently in Austin, Texas, with a five-storey block of 24 residential units. Larger projects are currently being considered for approval in Seattle and Denver.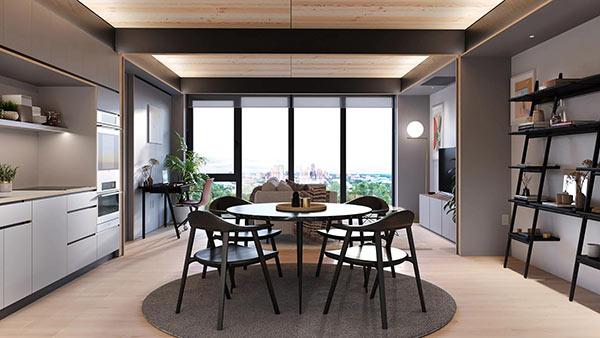 Although his modular house will be mass produced in the USA at first, Siegel is already thinking on a larger scale. "Because of this decentralized supply chain, if we chose to be global, we could do that. We could build supply chains in other countries. And we could apply this thinking to other places."
Text: Gertraud Gerst
Translation: Rosemary Bridger-Lippe
Visualisierungen: Engraff Studio, Juno
Other articles
that might interest you