Magazine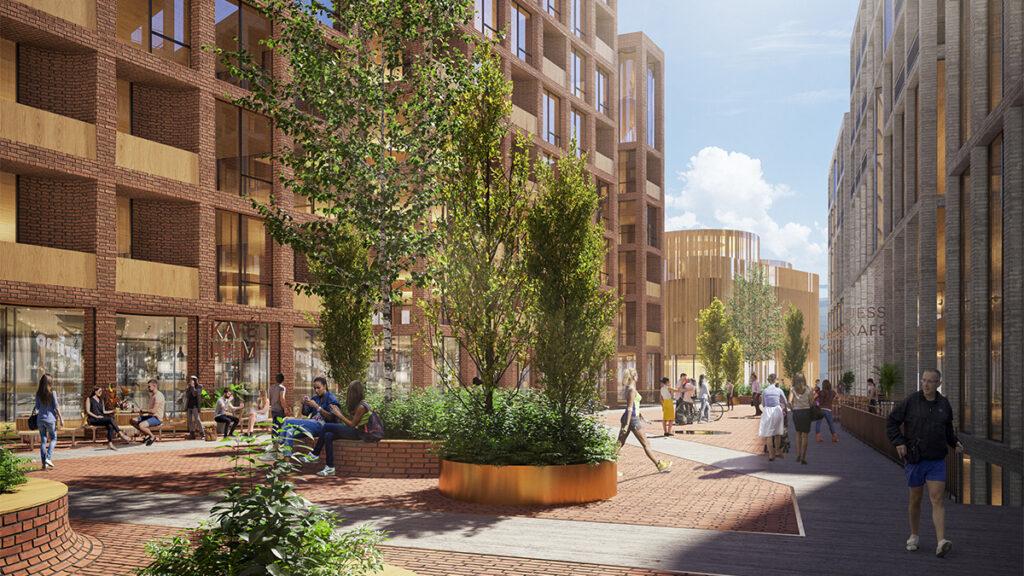 Yes to Jess!
The town of Jessheim is getting an impressive new centre. Designed by Norwegian firm Mad arkitekter, it promises to combine sustainable urban development with attractive indoor and outdoor areas.
Going for an evening walk in a vibrant local hotspot may sound distinctly Mediterranean, but it will soon be a reality for people in the Norwegian town of Jessheim as well. Residents and visitors alike are expected to embrace an upcoming new project, saying "Yes to Jess!". Norwegian architectural firm Mad arkitekter has designed a new, inviting town centre that goes beyond flexible shopping hours. Such as offering places to meet up with friends and relax with your family in the evening.
Urban quality of life
Green avenues, urban spaces and attractive hangouts are designed to increase the appeal of Jessheim's new town centre. Or rather, the area between Jessheim's shopping centre and its town hall. An area that can accommodate offices, schools, health centres, hotels, apartments, shops, bars and restaurants. All thanks to a winning competition design submitted by Mad arkitekter together with Mellbye Arkitektur Interiør AS.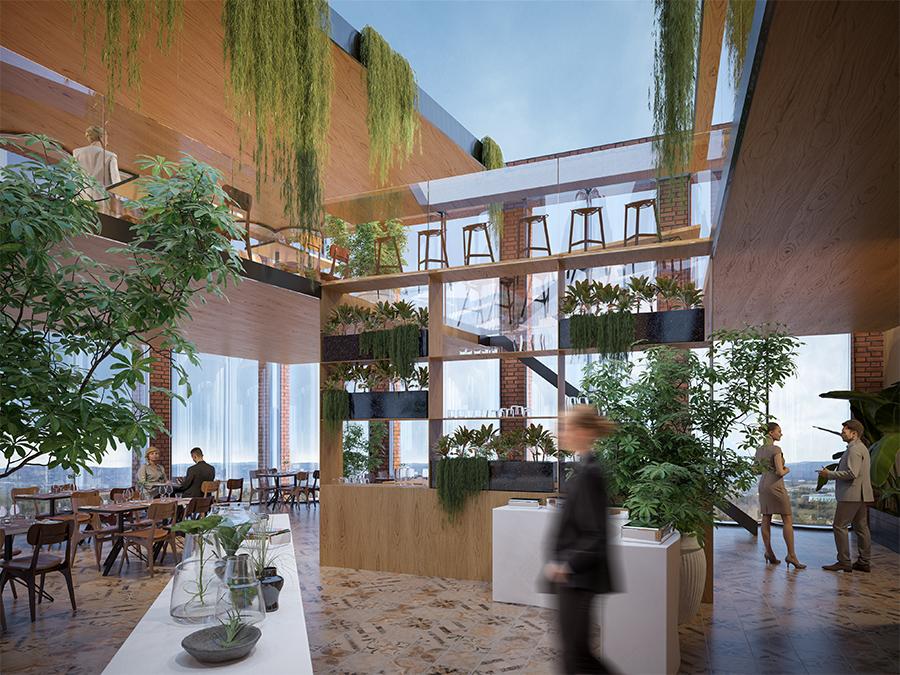 The urban development project in Jessheim is a perfect fit for Mad arkitekter. After all, its interdisciplinary team always aims to cater for local needs. But it also takes into account the impact of its designs on the natural surroundings and climate. Or, as its website puts it: "For us, every single project is extraordinary, and all our projects should contribute to positive and sustainable social change."
Sustainable and inviting
Accordingly, Mad arkitekter and Mellbye made sure that the new district in Jessheim is attractive and viable for the future – not just from a commercial perspective but also socially and ecologically.
From climbing wall to art gallery
For example, the main building facing the town hall square will have a whole host of interesting attractions for children and adults alike, ranging from a climbing wall to art exhibitions. Streets and passages will create open spaces and walkways between the buildings in the new downtown area of Jessheim, ensuring that it will be full of life.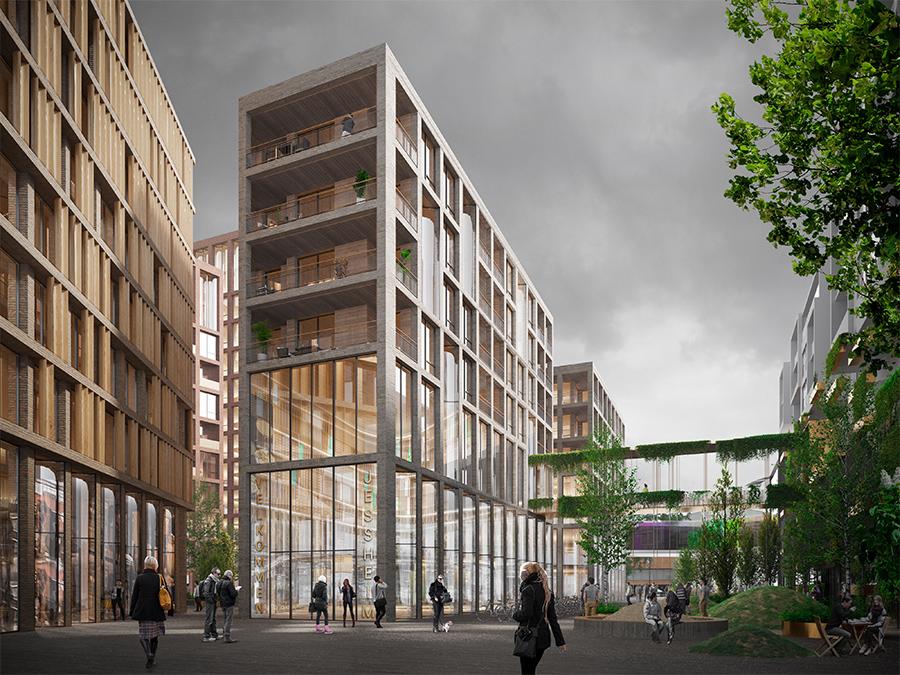 Modern rental spaces are designed to create pleasant working environments while also accommodating a diverse range of retail outlets. Also planned is a new Byhotell, a place to enjoy fine food and catch up with friends.
Modern feel-good zone for Jessheim
As architect Åshild Wangensteen Bjørvik, partner and CEO of Mad arkitekter Oslo, says: "We hope that people will spend more time in the town centre and will feel at home there, both on the streets and inside the buildings. With Jess, we want to create a pleasant urban environment in Jessheim and further strengthen its local identity."
Small, but important
Jessheim is the centre of the Norwegian municipality of Ullensaker in the Viken province, not far from Oslo Airport. Although small, the town is important due to its location and transport connections. Jessheim railway station is on the main Oslo-Eidsvoll line and is served every hour by regional Drammen-Oslo-Dal trains. Hourly bus lines also connect Jessheim with Eidsvoll, Nannestad and other municipalities, and also the airport.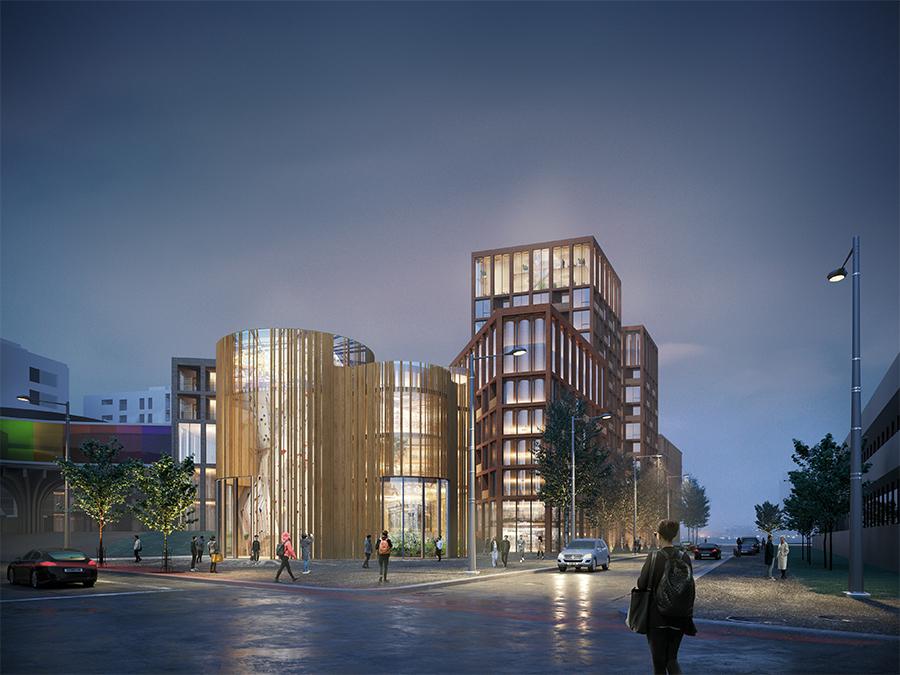 To date, the neat little town centre is mainly busy during the day, with its shopping street, town hall and shopping centre. It is also very easy to reach with public transport. But, as Mellbye Arkitektur Interiør partner Ajas Mellbye states: "Some parts of the town centre don't work so well in the evenings right now".
Smart structure
As Mellbye explains, Jess aims to rectify this: "By structuring the district in this way, we make room for small spaces, narrow streets and non-commercial areas for people to meet up and chat, unwind or play games. Jessheim town centre is intended to be unpretentious, informal and inclusive – at any time of the day."
Wood, bricks and greenery
In the renderings illustrating the new district, it is wood, bricks, glass and greenery that set the tone. Accessible streets invite people to stroll and green public squares allow them to linger. Large windows and balconies promise bright, airy apartments and offices in attractive buildings with clear lines and interesting facades.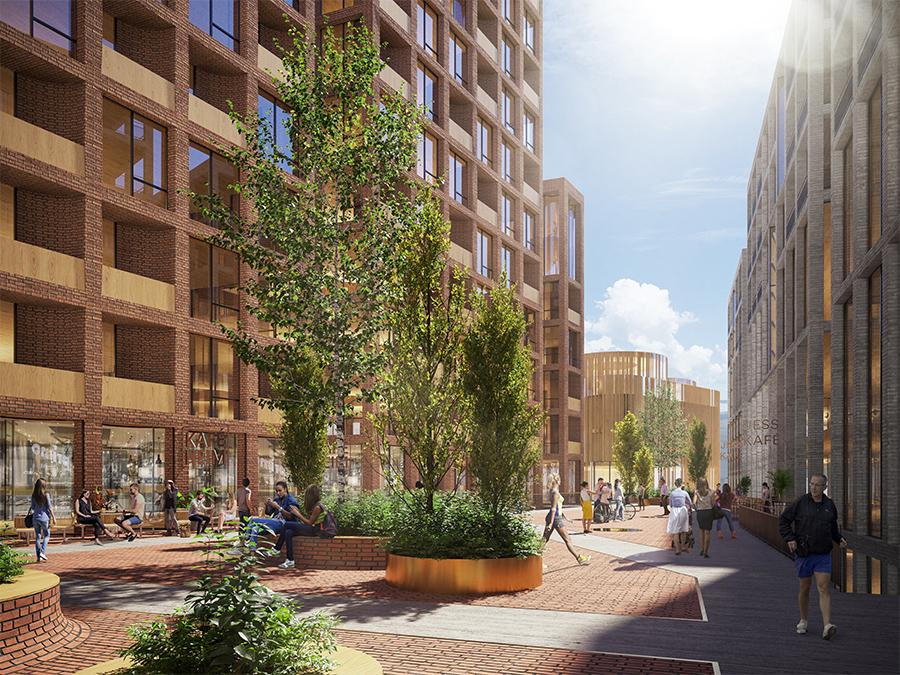 Great things are expected from the future heart of Jessheim. For instance, Tore Kværner from developer Harald Kværner Eiendom AS remarks: "The building structure there will give Jessheim a more urban feel. And it will add a whole new vibrancy to the town centre."
He also explains why this was selected as the winning design: "Mad arkitekter had great solutions for the urban environment and an exciting concept for the hotel." In his view, the hotel has everything it needs to succeed – from room solutions to target groups – without being in direct competition with Gardermoen.
Upgrade with city flair
It's probably fair to say that, through size alone, Jess is not as spectacular as other urban development projects such as Eindhoven's railway station district, Mannheim's Franklin district or Toronto's Downsview.
But at the same time, bringing Mediterranean city flair to a Norwegian town is no mean feat. And the Mad arkitekter team is almost there.
Text: Elisabeth Schneyder
Translation: Rosemary Bridger-Lippe
Images: mad arkitekter
Other articles
that might interest you