Magazine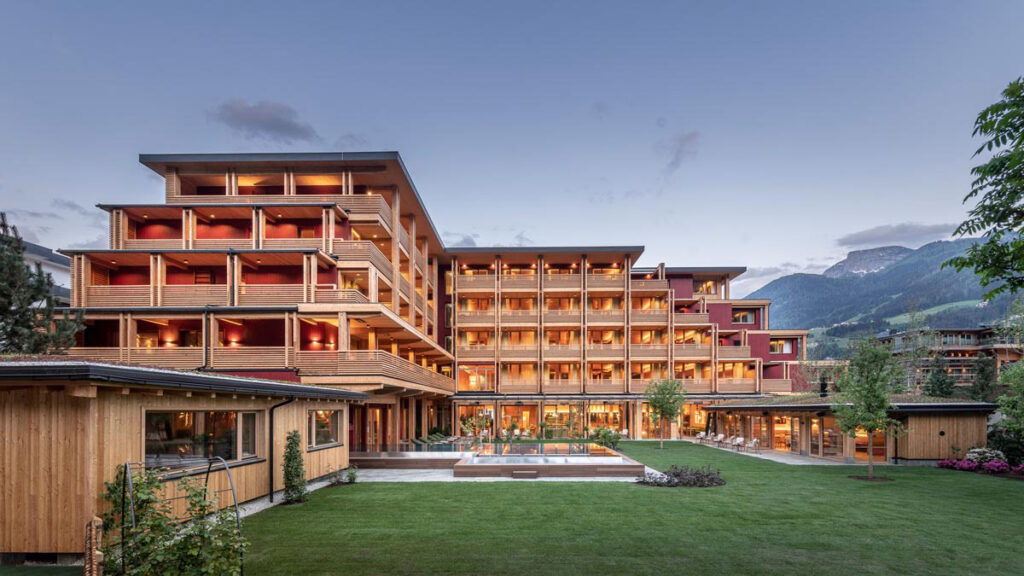 Timber construction by star architect
The first five-storey hotel in mass timber design is located in Zillertal, Austria, created by celebrated Italian architect Matteo Thun. It is no coincidence that one of the leading players in structural timber construction is based only a stone's throw away.
Zell am Ziller is an idyllic district in Zillertal, Tyrol, with 1,700 inhabitants and a range of accommodation. The latest addition to the hotels on offer in this tourist destination is a shining example of sustainable design and resource-efficient operation. Managed as a Green Spa Hotel, the MalisGarten stores 3.2 gigawatt hours of solar energy and sequesters over 1,500 tonnes of CO₂. The project's mass timber design plays a significant role here, together with its heating and cooling system based on geothermal energy.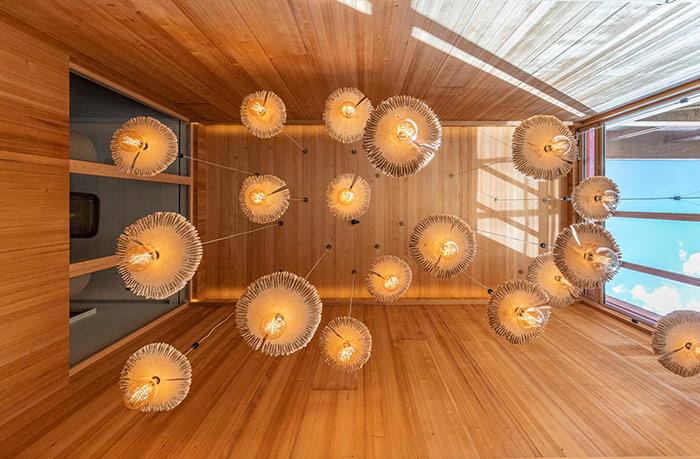 From top to bottom
"Wood is the only material I know that has aesthetic and technical durability," explains Matteo Thun. The South Tyrolean architect has made a name for himself primarily with international hotel and design projects. For Zillertal's five-star hotel, he used timber as a sustainable construction material from top to bottom.
Besides the floors, walls, ceilings, facade and furniture, even the stairwells and elevator shafts are built with mass timber. This consistent approach complies with the client's instructions: Christina Binder-Egger and Reinhard Binder had a vision of building a hotel made entirely of wood. Although that's not really surprising considering their background – with binderholz as the family business.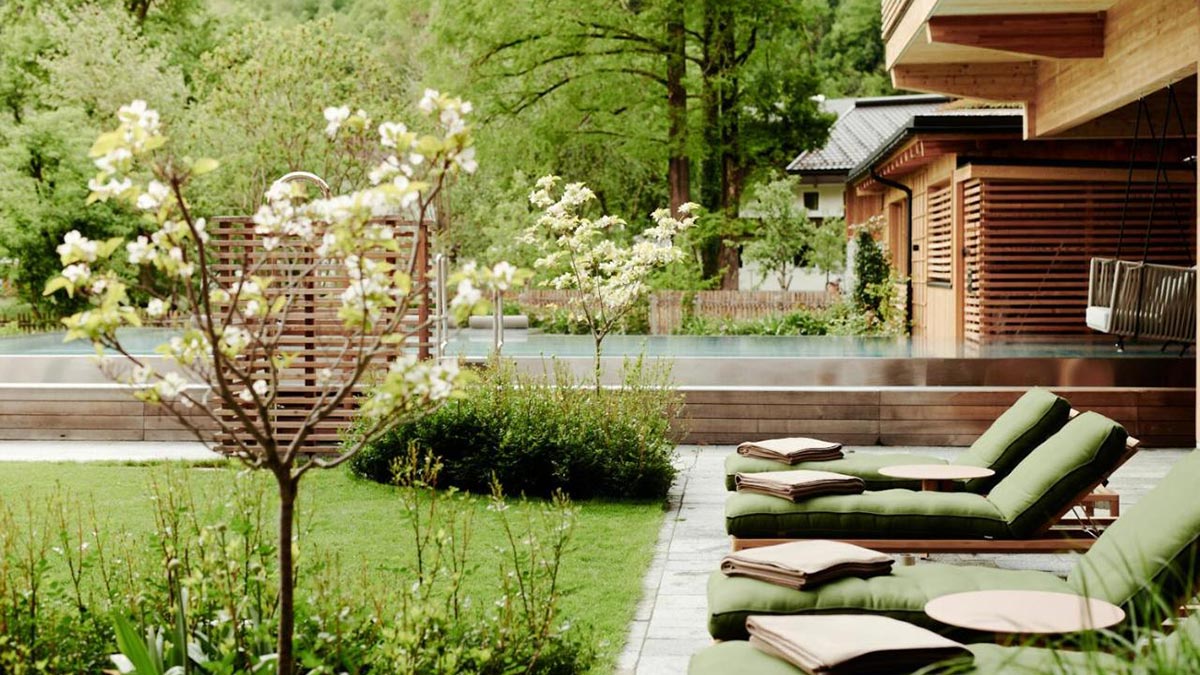 Family expertise
Anybody who has anything to do with structural timber construction is sure to come into contact with Binderholz Bausysteme GmbH at some point. Based in Fügen, Zillertal, the company was established in 1950 and has since developed from its beginnings as a sawmill into the co-developer of major timber construction projects around the globe. Its expansion strategy has produced spectacular growth in recent years. With sites in Germany, Finland, the UK, Latvia and the USA, turnover has increased more than sixfold over the past seven years. Since 2021 binderholz has been regarded as the largest sawmill company in Europe.
Wood is the only material I know that has aesthetic and technical durability.

Matteo Thun, architect
Its product portfolio ranges from profiled timber for DIY stores, pellets and horse shavings, through to glulam and cross-laminated timber for structural timber construction. The company's largest projects include the Vallen residential complex in Växjö, Sweden and a timber high-rise with 27 storeys currently being planned in Tanzania.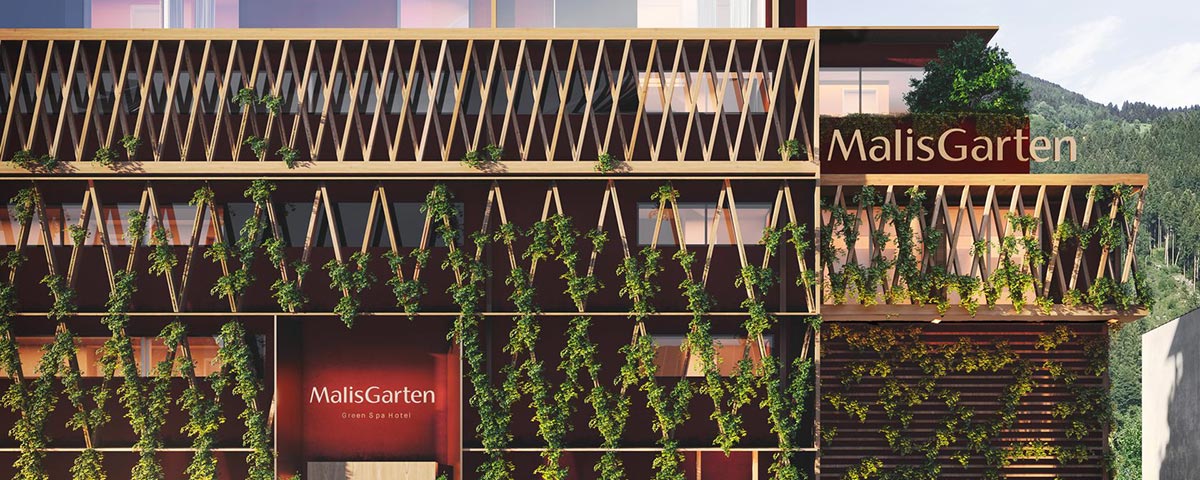 15-month construction time
Reinhard Binder now runs the company together with his brothers Hans and Franz Binder. Consequently, the family is an ideal source of expertise and experience when it comes to building a hotel made exclusively of timber and with several storeys. "Thanks to binderholz and their know-how, we have achieved the creation of MalisGarten with materials from the 21st century," says Matteo Thun, describing his cooperation with the Austrian timber giant.
Thun was supported by Tyrolean architectural firm Meissl Architects. Working together, they managed to build the hotel in a record-breaking period of 15 months. Architect Alexander Meissl observes: "The flexibility in design, the short construction time and the ecological advantages signal a successful future for wood as a building material."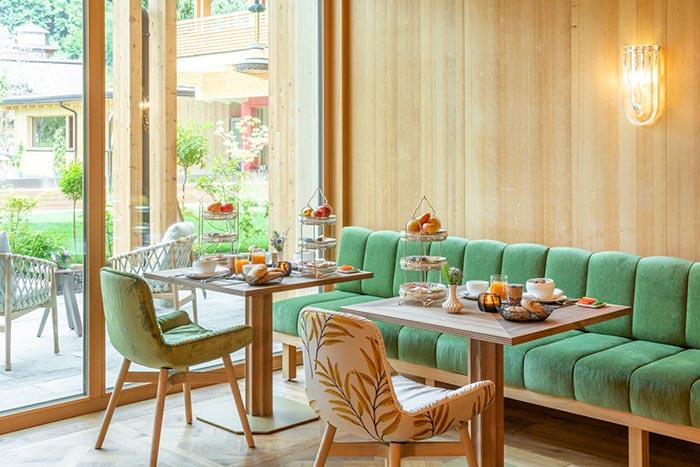 Best Newcomer Hotel
The architects and their clients didn't just use timber for construction purposes, though. Wood is the material of choice throughout the interior design as well. They were even bold enough to combine different types of wood as well, with a blend of spruce, fir, larch, pine, oak and walnut. The hoteliers emphasise the regenerative effect of this natural material and the resulting stable indoor climate.
MalisGarten is part of the Zillerseason Luxury Hotel Collection, which also includes Das Posthotel, HochLeger, ZillerLodge and the restaurants Heleni and DieMarie. In a survey by the Falstaff Hotel Guide, the timber spa retreat was awarded the highest number of points in the award for the Best Newcomer Hotel.
Text: Gertraud Gerst
Translation: Rosemary Bridger-Lippe
Photos: ZillerSeasons, Dirk Tacke
Other articles
that might interest you